Positive patient identification leads to right patient, right blood every time
The patient identification check is a critical point in the transfusion process where errors are made. These mainly occur if staff do not follow established protocols, and result in no true check of the patient's identity. These errors continue to occur despite the introduction of training and competency assessments for all staff involved in the transfusion process.
While professional responsibility must be taken by all personnel involved at each stage (SHOT Annual Report 2007) the final 'bedside' patient identity check is the last chance to detect errors that can occur earlier in the chain, as well as being a critical point for new errors.
Recent publications have highlighted the importance of patient identification, awareness and involvement:
The DH "never events" list 2012/13 an amended list of 'never events' was published in January 2012 to strengthen systems for prevention in the future. Two of the 'never events' relate to transfusion: (17) Transfusion of ABO-incompatible blood components and (23) Misidentification of patients. www.gov.uk/government/publications/never-events-list-update-for-2012-2013
'Making shared decision-making a reality: no decision about me, without me' (Kings Fund July 2011). This report examined the importance of effective shared decision-making to patients, clinicians and the wider health system; and its role in contributing to better health care outcomes.
In addition, the 2009 Serious Hazards of Transfusion (SHOT) Annual Report recommended: 'A patient education campaign should empower recipients of blood transfusion.... to ask the staff, before they carry out the intervention: 'Do you know who I am?' Action: National Blood Transfusion Committee, DH, Trust/hospital CEOs'. http://www.shotuk.org/
The campaign
Trusts, hospitals and other healthcare facilities, as well as patient organisations, are encouraged to hold awareness events as part of the 2013 'Do you know who I am?' campaign. To help, a guide to running a transfusion awareness event and supporting resource materials are available together with an evaluation form to help us gather valuable feedback for future initiatives.
Involving patients in their care can help make it safer, and targeted use of these materials will remind both staff and patients of the critical importance of ensuring correct identity.

The campaign was launched as part of a number of initiatives to highlight National Pathology Year 2012 organised by the Royal College of Pathologists.
Resources
These materials can be downloaded and printed. Alternatively paper copies and stickers with the 'right patient' logo can be ordered from the distribution hub operated by Access-24 by entering your Regional Transfusion Committee code. If you do not have a code please call 01865 381042.
Posters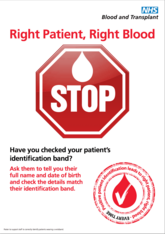 Staff poster for use in general clinical areas where patients are wearing an identification band
e.g. in-patients (pdf 516KB)
Staff poster for use in areas where patients may not be wearing an identification band
e.g. out-patients (pdf 516KB)
Staff poster for use in areas where patients may be unable to confirm their identity, such as ITU or operating theatres. (pdf 592KB)

Patient poster - in-patients (pdf 520KB)
Patient poster - out-patients (pdf 520KB)
Factsheets
'Right patient, right blood' Staff factsheet (pdf 556KB)
'Do they know who you are?' Patient factsheet (pdf 560KB)

A guide to running a transfusion awareness event (pdf 128KB)
Miscellaneous
Flyer/screensaver (ppt 196KB) Can be adapted to publicise local campaigns.
Evaluation form (pdf 12KB)
Further patient information on blood transfusion is available on:
http://hospital.blood.co.uk/
and
http://www.blood.co.uk/